U.K.
On our Classes page you will see that Baden-Powell House is one of the venues for the Gillian's group lessons. It is also a great venue for a range of events for both Scouts and non-Scouts!
The Budokwai is Europe's top martial arts centre  and is another of Gillian's venues for group Pilates classes
www.sammutandsammut.co.uk Osteopath offering the whole spectrum of osteopathic care.
www.okost.com/html/chelsea.html All round Osteopathy with Philip von Hauenschild at The Chelsea Practice.
0207-351-2311 (Mobile 07752-579657)  K Nails Salon – for the Personal touch 350 Fulham Rd SW10 9UH
www.chelseawild.com  "The Flower People" 345 Fulham Road
nadia@nadia-nicholas.co.uk Specialist in Facials and Lymphatic Drainage
www.yvettemasure.com Acupuncture and Facial Rejuvenation Acupuncture.
Rose Bettenson Nutrition and Wellbeing. Rose is highly qualified nutritionist working in the West of London.
www.waggintailsonline.com Waggin' Tails – Chelsea's exclusive pet boutique and pet grooming spa
www.krsc.co.uk King's Road Sporting Club, 38-42 Kings Road. London SW3.  Really useful sporting goods shop on the Kings Road near Sloane Square.
Horse Riding London at Wimbledon Village Stables. Lovely friends staff (and horses!) and they do both hacks and direct training on Wimbledon Common.
Hair Stylist London – Gemma Brown: Hair stylist and colourist. Does lovely work and will even come to your home if live in or around Wandsworth.
Sheena Patel Be Well Clinic – Physiotherapy offered in South Kensington by chartered physiotherapists specialising in all muscloskeletal pain. 020 7373 6899
http://www.selfhypnosiscd.co.uk/ Where my friend David Botsford shares his useful information on Self Hypnosis.
"Beauty Spot" Hair and beauty Salon is at 185 New Kings Road, Fulham, London. Tel 020 7371 5193/0960
http://www.drhauschka.co.uk/ Dr. Hauschka skin care.
http://www.unitedkingdomdirectory.com A good directory of UK web sites.
Gillian is the preferred Pilates teacher for The Renaissance Club (a "Better way to Live").
Sports Injury Clinics in London at Pure Sports Medicine offers sports and exercise injury clinics in Wimbledon and Kensington.
http://www.espaonline.com/ Luxurious products/great treatments.
ZEST, Scottish specialists in REIKI as well as running spiritual retreats / holidays.
http://www.yourteeth.co.uk A wonderful dental practice in Wimpole Street in Central London.
Reflexology in the comfort of your own home: Suzannah_king1@hotmail.com
Osteopathy in Upper Wimpole Street:    info@osteopathyclinic.com
David Scheffen
Make over for all occasions (bridal, party,…)
Complete consultation on hair, make-up and clothes
Travel to all destinations
Head make-up artist for Chanel UK, worked for Elle, Harpers and Queen, Bazaar, …
david_scheffen@yahoo.fr
Gillian Zeghouane
Skincare advice Chanel Makeup Studio at Harvey Nichols, Knightsbridge London SW1 020 7823 1735
Pippa Warrell
Harley Street Physiotherapy
110 Harley Street, London W1G 7JG
020 7224 4588 hsphysio@btconnect.com
Sophie Levene
Gilding and Restoration
020 8653 0695 or 07974 311 532
20 Years experience in all aspects of gilding. Specialising in both architectural and oil/water gilding services.
Deuxieme.co.uk
Nearly new and vintage clothes. Also new peices for established and up-and-coming designers.
299 New Kings Road, London SW6 4RE
info@deuxieme.co.uk
Larissa Kumana: Traditional Thai Yoga Massage. A passive form of yogic exercise to relieve stress and tension in the comfort of your own home.
larissakumana@hotmail.com
www.sweatshop.co.uk 
UK's no.1 Running Specialist, free shoe fitting and analysis and impartial advice.  Large selection of Gym/Yoga/Pilates wear. Free Monday night running group. 188 Fulham Road SW10 9PN
Luxury, sexy London, Fashion, shopping, beauty and health, psychology… articles in French and in English on London's first French lifestyle women's e-magazine LondonOmadame. www.londonOmadame.com
www.lovefoodlivelife.com
Break away from dieting and lose weight by re-connecting with the way your body wants to eat.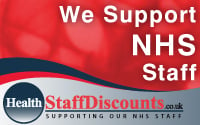 We Support NHS Staff Discounts