Shake your tush Fridays in Camden
Fit & Fabulous 
8pm Pilates/Yoga
9pm Make-up (I can help you), Dress up
10pm Night out
(LGBT friendly)
Academy Mews Dance Studios
15 Pratt Mews
Pratt Street
Camden
London NW1 0AD
Pilates/Yoga and Night out from £20
Class only from £12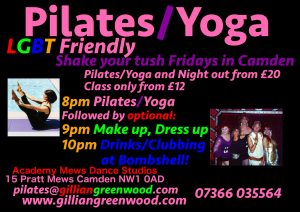 Book Class here
What we're about
This is a class for anyone interested in looking fabulous and enjoying the best of Camden's Nightlife. LGBT friendly. Beginners welcome.
Pilates, Yoga, Makeup, Make Friends, Make Believe, Make your Wildest Dreams come true. First of all we meet and learn how to tone, strength and stretch our bodies, improve our posture, learn how to walk in high heels and feel confident. Then, if you wish, I can help you with your makeup and overall "look". We strut down to a friendly bar and enjoy Camden's glittering nightlife.
Own it girl! – You read out it, dreamt it…now you can Be It!
8pm-9pm Pilates/Yoga
Followed by optional:9pm Makeup, Dress up
10pm Night out
Walk
 tfl walking guide. We are less than 5 mins walk from Camden Town Tube, walk down  Camden High Street, Pratt Street is almost opposite The Blues Kitchen just past Waitrose. Walk down Pratt Street and Pratt Mews is on your right.
Tube:  The nearest tube station is Camden Town on the Northern Line, 5mins walk
Bus:   24, 27, 29, 31, 134, 135, 168, 214, 253, 274
Santander cycle hire on the following streets
Parkway – Camden Town
Arlington Road – Camden Town
Greenland Road – Camden Town
St Martins Close – Camden Town
Hawley Crescent – Camden Town
 GPN
Get connected, proactive and productive with GPN, the LGBT organisation to further your business or career and makes meaningful business and social contacts, join now on
https://www.gpn.one